Innerspace Counseling Outcomes and Feedback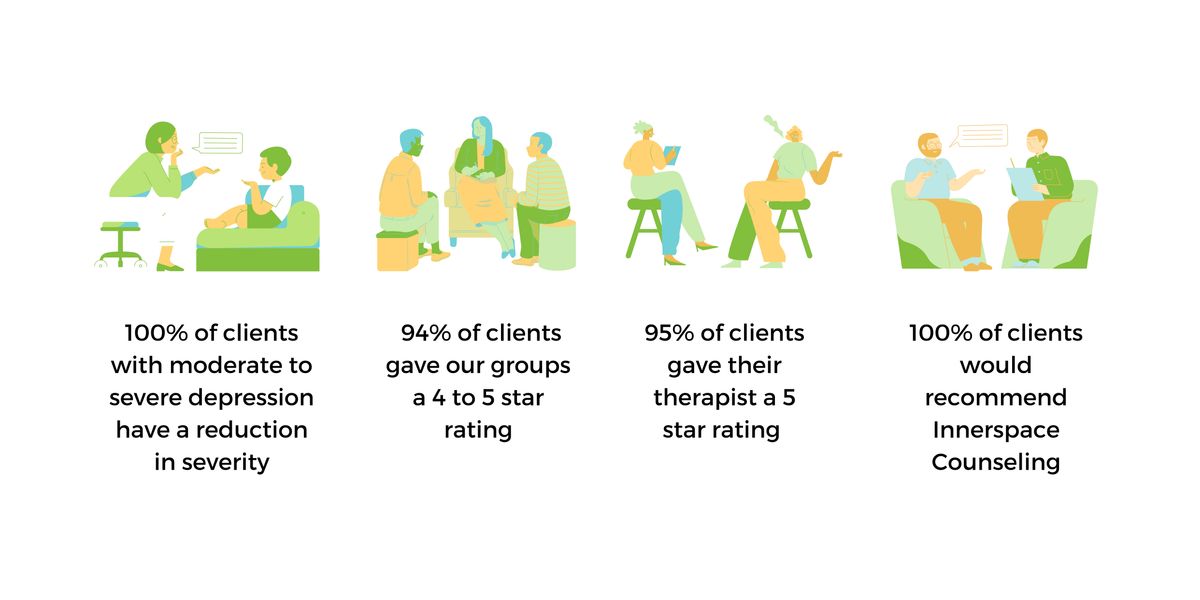 At Innerspace Counseling, our mission revolves around transformative healing and delivering exceptional care. Our unwavering commitment to providing effective therapeutic interventions is evident in the remarkable progress achieved by our clients.
A central area of our expertise lies in assisting individuals dealing with depression. Through our evidence-based and compassionate approach, we are pleased to report that our clients with moderate to severe depression experience significant improvement. Within just 8 weeks of treatment, 100% of these clients witness a reduction in severity, with 83% reporting a reduction to mild depression. At Innerspace Counseling, we firmly believe that everyone deserves the opportunity to lead a fulfilling and joyful life. Our aim is to equip our clients with the essential tools to reach their goals.
The cornerstone of our clients' success lies in the caliber of our clinicians. Our team of dedicated professionals takes immense pride in their work, offering expertise and unwavering commitment in every therapeutic interaction. In client feedback, an impressive 95% of respondents rate their therapist as deserving of a 5-star rating at discharge, underscoring the exceptional quality of care provided at Innerspace Counseling.
Group therapy is a fundamental component of our treatment approach at Innerspace Counseling. We highly value our clients' perspectives, and their feedback regarding group sessions is overwhelmingly positive. In fact, 94.4% of clients rate their experiences in group therapy as 4 or 5 out of 5. This resounding endorsement reinforces the positive impact and value of group therapy within our comprehensive treatment.
As we accompany our clients on their healing journey, we witness profound transformations taking place. Upon completing their treatment, our clients emerge feeling empowered and ready to face the world with renewed strength. The results are clear - in our discharge surveys, 100% of our clients express their willingness to recommend Innerspace Counseling to others seeking support and healing.
At Innerspace Counseling, we hold the trust our clients place in us in the highest regard. Our commitment to excellence is unwavering, guided by compassion and expertise, with a steadfast dedication to the well-being of each individual. If you or someone you know is in search of a secure and supportive environment to navigate life's challenges, we extend a heartfelt invitation to embark on a transformative journey with Innerspace Counseling. Together, we can achieve healing, growth, and enduring well-being.
If you're ready to take the next step towards healing from depression and other mental health challenges, reach out to Innerspace Counseling. Our specialized programs, including Intensive Outpatient Program (IOP), Partial Hospitalization Program (PHP), and Dialectical Behavior Therapy (DBT), are designed to provide the support and tools you need to regain control of your life. Our dedicated team, including experienced psychiatrists, is here to guide you on your path to recovery.