Find a Way to Control Your Anger
Feeling angry every once in a while is normal, and that doesn't mean that you have anger issues. However, if you have trouble controlling your anger and often find yourself angry about small problems, it could indicate that you have anger issues. Luckily, when you enroll in either the Intensive Outpatient Program (IOP) or the Partial Hospitalization Program (PHP) at Innerspace Counseling, our team can provide you with the guidance you need to learn how to manage your anger. Continue reading below to learn more, or give us a call to request a consultation.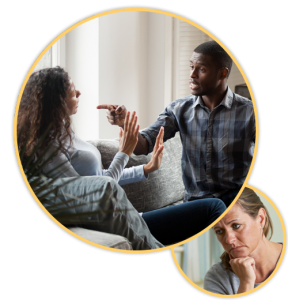 Those who are struggling with anger issues may exhibit a few signs that it's time to seek help, including:
Problems with expressing emotions in a calm and healthy way
Inability to compromise without getting angry
Outward aggression
Ignoring people or refusing to talk to them
As with any mental health condition, it's important to note that not all patients are the same, and what works for one person may not work for another. For this reason, Innerspace Counseling is dedicated to providing each patient with an individualized treatment plan to help them learn how to manage and control their anger both inside and outside the therapy setting. Our professional psychiatrists have years of experience working with patients just like you, and we are more than happy to help you live the happier, healthier life that you deserve. Give us a call or reach out using our online contact form to request a consultation today!
How We Can Help
At Innerspace Counseling, our approach to managing anger issues is more intense than other methods of therapy. Both our IOP and PHP programs give patients the tools and support they need to manage their anger through individual therapy, group therapy, medication management, and family sessions depending on their treatment plan.
Ready to get started on the road to improved mental health? Contact Innerspace Counseling in New Jersey to learn more about how we can help individuals living with anger issues and request an appointment today!
Scheudle Your Consultation Today
Do not fill out this form if you are a solicitor.
Why Choose Innerspace Counseling?
There are many reasons why an individual might seek counseling, and the reality is that traditional methods don't always work best for everyone. At Innerspace Counseling, we developed our programs to meet the needs of individuals who are looking for a more intense treatment option where they can improve their mental health and learn how to manage it on their own once the program is complete.
At Innerspace Counseling, we understand that each individual is unique, which is why we don't offer a cookie-cutter approach to our treatments. Each of our counseling services is strategically structured so that it can best benefit the needs of each of our patients. Additionally, our staff is highly responsive and attuned to your needs, providing you with comfort and peace of mind every step of the way.