Let Innerspace Help
Those who experience mood disorders generally feel as though they aren't in control of their moods at any given time. While it's normal to experience mood swings every now and then, constant shifts in your mood could be the result of an underlying mood disorder. For some people, their mood disorder is easily treatable. However, if you find that your mood disorder is severely impacting your quality of life, Innerspace Counseling in New Jersey is here to help. Continue reading below to learn more about how we can help patients living with mood disorders, and give us a call to request a consultation today!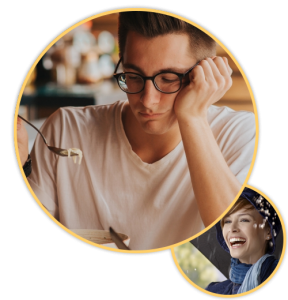 "Mood disorder" is a term that can be used to encompass a variety of mental health conditions, including:
Major Depressive Disorder
Bipolar Disorder
Seasonal Affective Disorder
More
If you suspect that you have a mood disorder, it's important to contact a mental health professional. Unfortunately, mood disorders do not disappear over time, but individuals can learn to manage them using various methods such as therapy and medication.
At Innerspace Counseling, we offer our unique and intense approach to therapy through our Intensive Outpatient Program (IOP) and Partial Hospitalization Program (PHP). When you enroll in our programs, you can learn to manage your mental health through individual counseling, group therapy, medication management, and family sessions depending on the personal treatment plan created by your psychiatrist. Learn more about our programs, and contact Innerspace Counseling if you think our program is right for you!
RECOGNIZING THE SIGNS OF A MOOD DISORDER
At first, the signs of a mood disorder may be easy to ignore. However, left untreated, a mood disorder can get out of hand, and it may become more difficult to ignore the symptoms. Most commonly, an individual will visit their doctor if they feel that their emotions are interfering with their work, relationships, or social activities, or they have started using other coping mechanisms to help control their moods. That being said, everyone is different, and you may not experience the same symptoms as someone else.
If you are having trouble controlling your emotions and you're ready to start living a happier, healthier life, Innerspace Counseling is here to help. We proudly offer counseling services to residents throughout New Jersey, so if you're interested in our programs, give us a call to request an appointment today!
Scheudle Your Consultation Today
Do not fill out this form if you are a solicitor.