Transforming Together: Exploring the Power and Promise of Group Therapy
Jordan Glass B.S. & Danielle Savvis LAC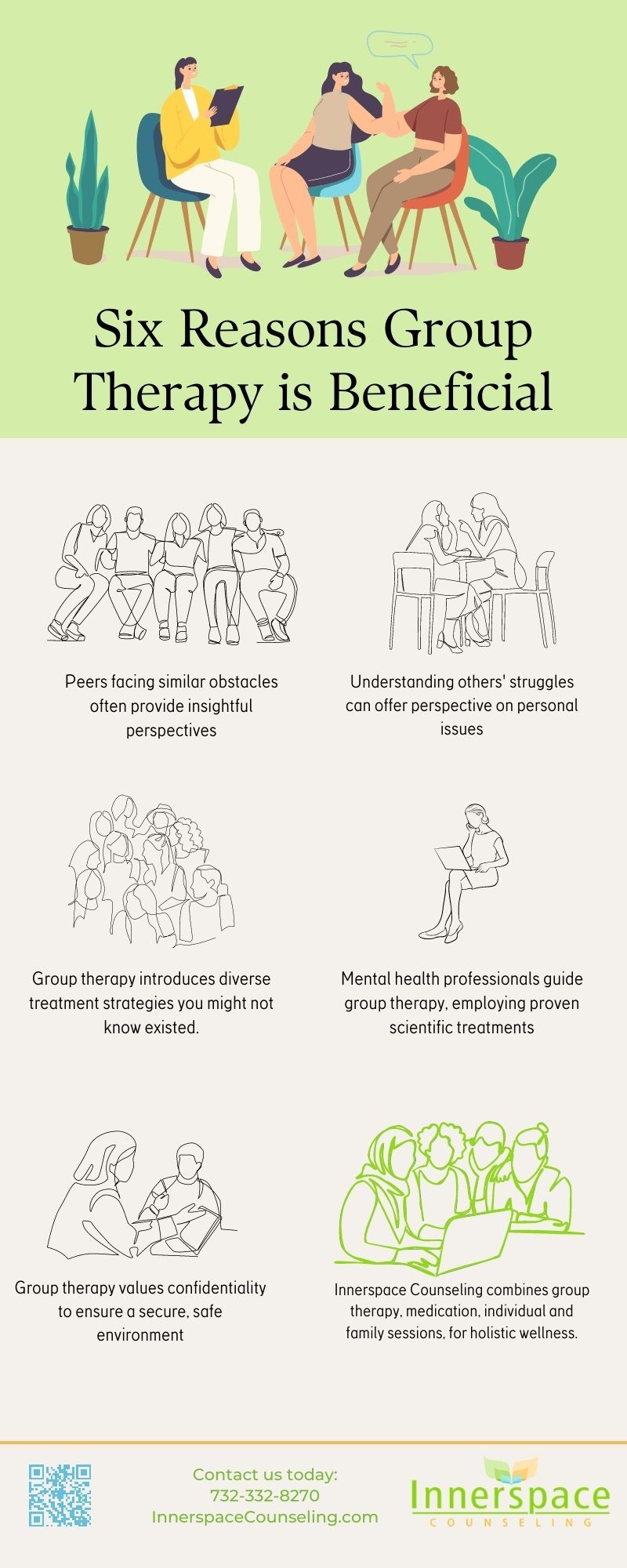 At Innerspace Counseling, we understand that seeking help can be a deeply personal journey. The idea of being vulnerable on this journey with others, as in group therapy, might seem overwhelming. It's natural to fear the unfamiliar, to worry about privacy, to grapple with the pace of progress, and to feel apprehensive about potential personality clashes. We acknowledge that every person is unique, with their own set of challenges and pace of healing. We empathize with the unease you may feel about speaking your truth in front of others, the fear of judgement or criticism, and the discomfort of stepping outside your comfort zone.
The Unique Perspective of Group Therapy
Peers who struggle with similar barriers often have a valuable point of view. For example, someone in a group may have faced a comparable barrier to yours and could offer ideas and solutions from your shared, unique frames of reference.
For example, in a group someone may share about a conflict with their partner and someone else in the group may have experienced something similar. Their viewpoint could offer the first person some perspective on how to approach their decisions and emotions.
Improving Mindset through Shared Experiences
Listening to and processing other people's struggles can help put your own problems into perspective. You may be able to approach your mindset differently after hearing the way someone else is feeling.
For example, after some time in a group, a new group member may share the anxiety they feel about the beginning stages of healing. This can put in perspective for you how far you have come from that point and apply strength to the tools that got you there.
The Diversity of Treatments in Group Therapy
By participating in group therapy, you allow diversity into your treatment. You may find a new strategy, coping mechanism, or community that you never knew existed and could enrich your journey to wellbeing.
For example, someone's healing journey may have been heavily aided by participation in community service and volunteering. Another group member could potentially not have considered that before or knew how to get started; they could come to discover new ways of coping that would have never crossed their path.
The Role of Mental Health Professionals in Group Therapy
Group therapy is led by a mental health professional. The trained individual utilizes scientifically proven treatments to aid the group. This means that on top of all the benefits you receive by being in a group, it is amplified by the professional in the room to guide topics.
For example, two group members may be struggling with similar barriers, but neither can plan an approach to the issue. With some prompting from the therapist, all group members would be able to apply the techniques, schools of thought or suggestions made by the therapist.
Confidentiality in Group Therapy
Confidentiality is important to all forms of therapy, meaning that what is said in session stays between the therapist and potential group members. Though that can't always be ensured with a group, all members are told that groups work better when everyone understands that what they say will not be repeated and that they will do the same for the rest of the group.
While the idea of group therapy may seem daunting at first, it is important to remember that it is a powerful, evidence-backed tool for healing. As New Jersey's leading primary mental health program specialist, at Innerspace Counseling we understand your fears, respect your individuality, and cheer your bravery. You are never alone in your journey. Initiating the journey may seem intimidating, but each step you take brings you closer to growth and recovery. And with every step, we are here to care for you and empower you. In our intensive outpatient program (IOP) and partial hospitalization program (PHP), group therapy, paired with individual therapy, medication management, and family sessions, forms a comprehensive, holistic approach to your healing process.
If you believe that you or someone you know may be struggling with their mental health and is apprehensive about group therapy, Innerspace Counseling in Old Bridge, New Jersey is here to help. Our children, adolescent, and adult intensive outpatient programs and partial hospitalization programs may be just what is needed to develop and maintain positive mental health.
Want to explore the benefits of group therapy for you or someone you know? Contact us today to learn more.
If you or someone you know is in a mental health crisis or emergency, please contact 9-1-1 or your local crisis center
For example, a group member could share about being let go from their job for stealing; and that information will not be repeated, where it could potentially hurt that individual. They would be free to process a shameful event in a healing environment.